Blackfeet Nation Off Reservation Bison Hunt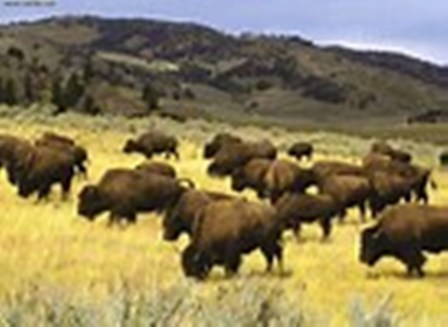 12/10/2019 * The following updated bison hunt orientation materials and off-reservation bison hunting regulations have been reviewed and approved by the Blackfeet Fish and Wildlife Commission (11/22/19) and the Blackfeet Tribal Business Council (12/5/2019).
Welcome to the Blackfeet Nation Off-Reservation Bison Hunt
We encourage you to read the materials on every page
of this website.
Remember, this is an exercise of off-reservation aboriginal hunting rights that reflects upon the Blackfeet Nation and other tribes. All Blackfeet tribal bison hunters must read and be familiar with the Blackfeet off-reservation bison hunting orientation materials and agree to abide by Blackfeet fish and wildlife regulations governing the bison hunt. Although, we will strive to have Blackfeet Game Wardens present to enforce tribal laws, any time you are on Forest Service lands you are subject to numerous special regulations related to the Yellowstone Bison hunt. For example, tribal hunters have been cited for shooting across public roads, riding a snowmobile upon roads closed to snowmobiles, driving off established Forest Service roads, etc. It pays to stop by the local Forest Service office to obtain accurate maps and to find out what special regulations are in place where you may be hunting to avoid problems. Please hunt in an ethical way and abide by all Tribal, state and federal regulations governing hunting, camping, and any other activities you are engaged in while hunting in the Yellowstone area.
Bison Hunt Update: 3/2/2020
Harvest Report:
On February 27th, 28 bison were harvested by tribal hunters (Blackfeet harvested 5).
On February 29th, 20 bison were harvested by tribal hunters (Blackfeet harvested 11).
On March 1st, 9 bison were harvested by tribal hunters (Blackfeet harvested 3).
Law Enforcement Update: Blackfeet season is done March 31st. Nez Perce are finished March 18. Umatilla are done at the end of March. Yakima are done at the end of February. No info on Northern Arapaho.
Brad with YNP: March 1, the park is implementing their "food order". Which means any animal parts have to be at least 200 yds from any roadway or trail, including Beattie Gulch. Any animals parts have to be at least ½ mile from any campground. They received a complaint of possible snow machines in Eagle Creek area but are unsure if it has anything to do with the hunters, just an FYI.
Mark with YNP: Stated he had heard rumors regarding tribal hunters hunting on private property which is prohibited because the state hunts are over.
Tom with Sho-ban: Encouraged tribal game wardens to talk to their members and suggested that Tribal Wardens carry large caliber weapons and accompany tribal hunters to ensure wounded animals are put down before they escape into YNP because they had 3 go into the park on February 25th.
YNP: Stated they're going to be capturing and quarantining bison soon. The rest will be sent to slaughter. YNP Rangers working closely with tribal entities and monitoring bison herds. YNP will capture in small groups. Will not do any trapping until tribal hunts are over. Tribal representatives recommended that bison be allowed to come outside YNP, so tribal hunters can obtain meat for their families.
The Law Enforcement may move shooting first light to 6:30 AM, so be aware of this when going down.
Blackfeet hunters who plan on using snowmobiles in the West Yellowstone area must purchase a Trail Pass for groomed trail access. The cost is $20 and the pass is good for 2 years. Trail Passes are available at the Chamber of Commerce (406) 646-7701, Corner Cenex (406) 646-7632, or Yellowstone Artic Yamaha (406) 646-9636. Hunting without a Trail Pass will result in a citation. Additional legal information regarding the Trail Pass can be obtained by calling Zack Zipfel at (406) 44-2551.
Call the Bison hotline (406) 994-5700 for more up-to-date information.
All Blackfeet tribal bison hunters must read and be thoroughly familiar with the Yellowstone Bison Hunting orientation materials and maps provided below:
Useful and Helpful links. Recommended that all persons read throughly.