Blackfeet Nation Off Reservation Bison Hunt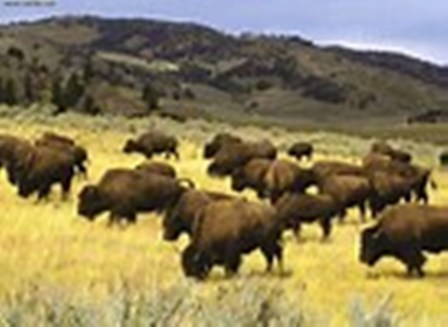 12/10/2019 * The following updated bison hunt orientation materials and off-reservation bison hunting regulations have been reviewed and approved by the Blackfeet Fish and Wildlife Commission (11/22/19) and the Blackfeet Tribal Business Council (12/5/2019).
Welcome to the Blackfeet Nation Off-Reservation Bison Hunt
We encourage you to read the materials on every page
of this website.
Remember, this is an exercise of off-reservation aboriginal hunting rights that reflects upon the Blackfeet Nation and other tribes. All Blackfeet tribal bison hunters must read and be familiar with the Blackfeet off-reservation bison hunting orientation materials and agree to abide by Blackfeet fish and wildlife regulations governing the bison hunt. Although, we will strive to have Blackfeet Game Wardens present to enforce tribal laws, any time you are on Forest Service lands you are subject to numerous special regulations related to the Yellowstone Bison hunt. For example, tribal hunters have been cited for shooting across public roads, riding a snowmobile upon roads closed to snowmobiles, driving off established Forest Service roads, etc. It pays to stop by the local Forest Service office to obtain accurate maps and to find out what special regulations are in place where you may be hunting to avoid problems. Please hunt in an ethical way and abide by all Tribal, state and federal regulations governing hunting, camping, and any other activities you are engaged in while hunting in the Yellowstone area.
All Blackfeet tribal bison hunters must read and be thoroughly familiar with the Yellowstone Bison Hunting orientation materials and maps provided below:
Useful and Helpful links. Recommended that all persons read throughly.