Tribal Members and Descendants, Fishermen, Hunters, Visitors and Recreation enthusiasts, Okii (Hello), welcome to the Blackfeet Nation; We would like to take this opportunity to thank all of you for not littering, camping in designated campgrounds, and supporting our Fish and Wildlife Department by buying recreation and conservation permits for swimming, hiking, bicycling, and other recreational uses. Please click on our online link to purchase one (1) day, three (3) day, or seasonal fishing permits. Be prepared for persistent winds that usually kick up by mid-morning. Please have a safe and enjoyable time while visiting and utilizing our beautiful homelands.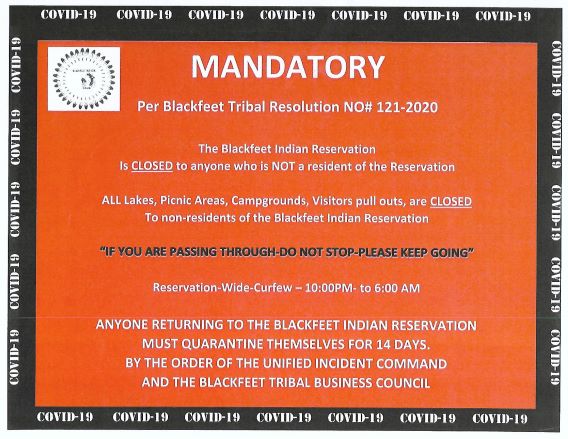 Per the Blackfeet Tribal Business Council all Recreational activities (fishing, hunting, hiking, snowshoeing, snowmobiling, ATV riding, etc) have been postphoned until June 30th, 2020 to ALL Non-Residents who do not reside within the boundaries of the reservation until further notice.
CORONA VIRUS UPDATE
Per Blackfeet Tribal Business Council, all sales are currently suspended due to the COVID-19. No non-residential fishing is NOT allowed. Non-members living on the Blackfeet Reservation who have already purchased their Recreational/Conservation and Fishing License are permitted to fish. This will be in effect until further notice.
Blackfeet Fish & Wildlife Department

2020 Bighorn Sheep Auction

For the 2020 Hunting Season, the Blackfeet Fish and Wildlife Department will auction one Rocky Mountain bighorn sheep tag. We plan to offer a tag every other year. Bighorn rams inhabit the mountainous terrain of Glacier National Park and the western portion of the Blackfeet Reservation.

The Blackfeet Indian reservation lies adjacent to Glacier National Park in north central Montana. Trophy quality Rocky Mountain bighorn sheep inhabit the mountainous region on the western border of the reservation. Non-Tribal member hunters are eligible to bid on special trophy class bighorn sheep auctioned off by the Blackfeet Fish & Widlife Department every other year. The next bighorn sheep auction is slated to begin on January 6th, 2020 and run until noon on April 30th, 2020. For more information and to apply follow this link.

2020 Moose Auctions

For the 2020 season the Blackfeet Tribe is offering 5 moose tags through 5 separate online auctions. These auctions will begin on January 6th and run until noon on April 30th, 2020. These auction awards will be presented to the highest bidder of each auction. Hunters can bid on more than one of these auctions. You can apply online for this auction or call the Game and Fish Department at 406-338-7207

2020 Blackfeet Tribe Trophy Elk Lottery and Auction

For 2020 the Blackfeet Tribe is offering 3 trophy bull elk through 3 separate online auctions and 2 trophy bull elk tags through a lottery. The lottery application dates are from January 6th, 2020 through June 30th, 2020. Read more.