Rocky Mountain Elk Foundation honors Blackfeet Fish and Wildlife Department
John McGill, Glacier Reporter, March 8, 2006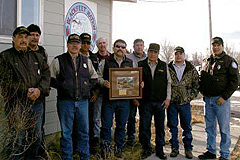 On Wednesday, Feb. 22, the Blackfeet Fish and Wildlife Department was honored by one of the biggest outdoor organizations in the United States, the Rocky Mountain Elk Foundation (RMEF).
This year the Rocky Mountain Elk Foundation recognized BF&W for their efforts in wildlife habitat conservation.
An award was presented at the National Conference in Reno, Nev., at the Business Partners in Conservation Reception. "I was honored to accept the award on behalf of the Blackfeet Fish and Wildlife Department," said Gayle SkunkCap Jr., Fish and Wildlife director. "This award was achieved by the whole department. Everyone had a hand in this accomplishment. I have an administrative assistant that is second to none, Peggy Whitford, game wardens Fred Crossguns, Galen Blackman, Howard Little Dog, Sam Juneau, Kevin Vaile, David Spotted Eagle, Greg Gilham, Wilbur CalfRobe and our threatened and endangered species team a.k.a. 'Bear Guys,' which consist of wildlife biologist Dan Carney and his two wildlife technicians, Adrian Costel and Stephanie Lahr."
The RMEF's motto is "Pass it on." The Blackfeet Fish and Wildlife program's ultimate goal is also to pass it on to future generations. "Doing so is tough to balance here on the reservation because it is so diverse, because of our nation being within a nation," Skunkcap said. "Things are always changing. We have a huge land base here at 1.5 million acres and it is so vast. There are many diverse elements and issues that we must deal with. We are often left to deal with people blaming the Fish and Wildlife for no elk coming down in the fall-winter season. The fact remains that there is no feed down lower for them to come down to. Cattle are not the total blame, as some people would assume. There are a number of issues such as global warming, the drought that we've been in for so long and our growing season is very short these days, to name a few. We also deal with the fact that if moisture does come, it is often followed by the wind that blows a million miles an hour, drying everything out. The four seasons are just not the same anymore. Although this is true, we as a Tribe have the ability to alleviate some of the distress. We just need to put our heads together and work for the best situation possible. As it is now, we have the natural resource departments and regulations to govern our lands. With the right resources and cooperation, we can make the best out of a bad situation."
Three years ago, BF&W was the recipient of the COPS Grant. "Prior to the grant, we received federal funding; one federal budget for the Fish and Wildlife and one for the Threatened and Endangered Species program," said the director. "This funding, which has remained the same since the start of the program with no increase is and has been received every fiscal year. From this, we have to budget for all of our needs in each program. It's not like the state fish and wildlife where the hunters support the fish and wildlife department. We don't sell as many tags as the state does in all of Montana. This budget must cover all of our costs, including items such as salaries, maintenance, uniforms, equipment, fuel, utilities etc."
With the COPS grant, BF&W took on many more duties within the department and began to cover a wider area on the reservation. "Before the grant, the department was limited to four individuals that were expected to cover the entire reservation," said Skunkcap. "With the added four, we now have a total of eight game wardens. Another bonus was new equipment and fresh minds that were academy trained. Even this was tough at first because as the new leader, being young, I dealt with a lot of controversy. I would like to note that as long as I am here, I will not let the state regulate our fish and wildlife program. We are sovereign and that's what sovereign is - the ability to govern ourselves."
The Blackfeet Fish and Wildlife code was recently updated to create an improved working relationship with the prosecutor's office and more convictions. The enforcement division will remain diligent in their efforts to enforce violations of the code and will continue to prosecute to the full extent allowed. "Conservation has always been an important part of our Blackfeet culture," noted Skunkcap. "The enforcement of our laws is a necessity in preserving wildlife for future generations."
The director reports his department meets biweekly, as a whole team, to discuss problems and ideas about how to make a difference as a department. "We may not always agree, but through this process, we are able to develop ideas to where everyone is usually in some terms in agreement," Skunkcap said.
Some recent accomplishments of BF&W include updating the fish and wildlife code to address new issues such as the use of ATVs and addressing restricted and closed areas, and closing the Dog Gun Lake area in order to increase the elk and wildlife population. "This was one of Ira New Breast's ideas that has been adopted and implemented by our department," said Skunkcap. "The area was transplanted with 50 head of elk and according to last year's game count, it increased to 150 head. According to this year's February's count, this herd has risen to 274."
Other jobs done by BF&W include reintroduction of the swift fox, currently maintaining a "self-sustaining" number of swift fox in the area, and implementing non-member big game hunts. "The income derived since implementing non-member big game hunts has allowed the program to employ four new individuals," said Skunkcap. "What's puzzling, but to our benefit, has been that individuals have paid up to $12,000 to $14,000, which is non-refundable, and the individuals have not shown up to collect their hunting tag."
In other moves, this year BF&W is closing the whole reservation to hunting from March 1 to June 15 for the gestation period in order to replenish wildlife populations. Additionally, Goose Lake has been successfully brought back after a winterkill; the department made a community recreation area out of Medicine Stab Lake, formerly known as "Dead Dog" or "Cemetery Lake" and the department has taken an aggressive approach to preventing chronic wasting disease (CWD) on the reservation's deer and elk population. The department has drafted a CWD management plan to include field monitoring, public education and hunter harvested samples for testing. A full description of CWD and the department's response will be published at a later date.
"These are a few improvements since I was hired as director," said Skunkcap. "Future plans include trying to get back the Badger-Two Medicine area. But, before doing so, we need to prove that we are capable of managing what we already have. I feel we are taking necessary steps to prove this point as is shown in our accomplishments. With that, I feel we are on the right track to obtaining this goal."
"A quote that really sticks with me was one that I read in a native magazine. The quote was by Bennae Calac, Pauma Band of Luiseno Indians. She said, 'We can no longer manage and resolve all of our tribal issues with old customs and traditions. Today, as we fight to protect our land and water rights and our sovereignty, we must make our voices heard by taking part in local, state and national elections. Along with maintaining our culture within ourselves and educating the world, we can preserve the languages, beliefs and morals that define Native America.' That said, I have to agree with RMEF's motto of 'Pass it on.' As a Native American, we have been taught to protect, conserve and only take what we need, so with that I have adopted that motto into this program so that it can be 'passed on,' too," said Skunkcap.