Latest News
2019 - 2020 Off-Reservation Bison Hunt update:
As of 1/29/2019, no bison were moving outside of Yellowstone National Park. Snow conditions may change in the
next couple of weeks, which could prompt bison migration outside of the park. Tribal bison hunters can also
call the Bison hotline for updated information 406-994-5700.
2020 Non-Tribal Member Big Horn Sheep Auction
Posted 1/01/20 (Wed)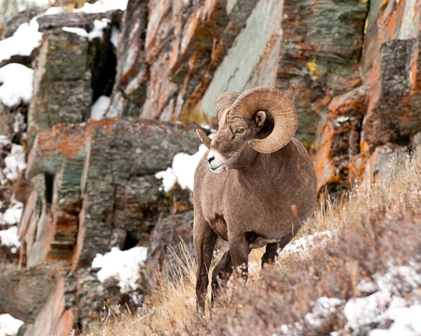 For the 2020 Hunting Season, the Blackfeet Fish and Wildlife Department will action one big horn sheep tag.
This Bighorn Sheep auction will begin on January 6th, 2020 and run until noon on April 30th, 2020.
The opening bid will be $35,000 and bidding will increase by $1000 dollar increments. Bidding may continue past the noon deadline if addtional bids come in within 15 minutes of closing time or within each other. This auction will have an auto bid function that will enable the auction to bid on your behalf. You can increase your autobid at any time. To bid on this auction go to our online license application. Any questions please contact us by email or call the Game and Fish office at 406-338-7207